2018 NESO
47th Annual
Convention & Trade Show
Columbus OH - January 25-27, 2018 - Marriott Columbus North West
Operators Click Here to REGISTER
Suppliers Click Here to REGISTER
--------------------------------------------------------------------------------------------------------------
ServSafe® Manager Class
Offered at 2018 NESO Convention
Thursday Jan 25, 2018:

ServSafe Manager 1 Day Class and Exam
*Class size minimums must be met, Limited space available
Pre-Registration required
Join us in Columbus OH !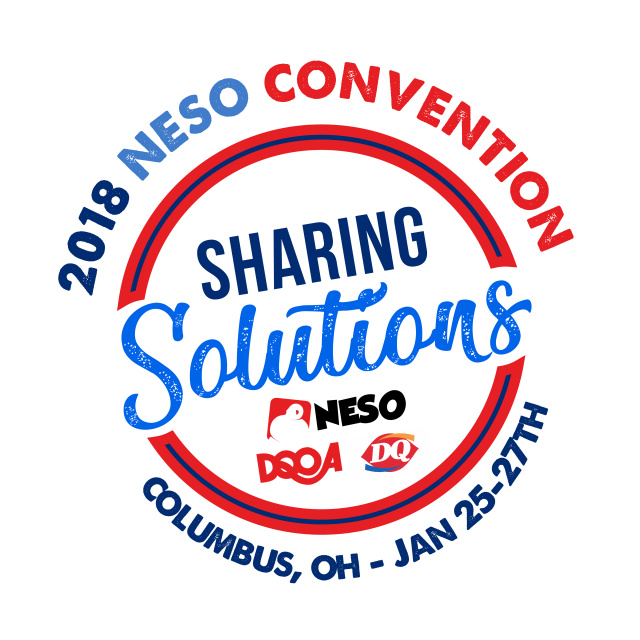 C O N V E N T I O N H I G H L I G H T S
Thursday Eve - Hors D'oeuvres / Cocktails / Entertainment Ebony & Ivory Dueling Pianos
-
Friday 7am - Breakfast & Meeting - DQs of Mid Ohio - 2017 Reality: 2018-2020 Visioning
All DQ Operators welcome
-
Friday 9am - 2pm- Supplier Exhibits (List below)
-
Friday 2pm - Scott Korzenowski, DQOA Outside Counsel
Contract Transfers & Improving your Relationship with ADQ-
Friday 330pm
- Amber Hart, CareWorksComp
-
Friday - Annual Auction
- Operators & Suppliers Welcome
-
Friday Eve
- Dinner & Entertainment Cocktails-N-Paint
-

Saturday 9am General Session


Tom Cleary - NESO Vice President
Josh Schmieg - DQOA Executive Director
Jason Dilly - DQOC Purchasing Director
Chris Kinder - IDQ Regional Operations Director


Saturday Eve - NESO Annual Banque
t
Don't miss our annual Gala and crowning of the NESO "Queen"
DOOR PRIZES!
His & Her Apple Watches
Amazon Echo
CASH PRIZES
Instant Money
- $1,000 Grand Prize
Special invitation to all Dairy Queens in
WV - OH - PA - VA & MD
(Red denotes DQOC Approved)

Brown Foodservice…Gold Sponsor
Peck Foodservice…Silver Sponsor
Cintas…Bronze Sponsor
Schenk Packing…Bronze Sponsor
United Dairy…Bronze Sponsor

BB&T Insurance
BPS Products
Dr. Pepper Snapple
Glass City Foodservice
Hillson Nut
International Restaurant Distributors
Klosterman Baking
Lyons Magnus
Red Gold
Southern Champion Tray
Tarrier Foodservice

Pepsico…Gold Sponsor
Coca-Cola…SIlver Sponsor
Crossroads Lighting…Silver Sponsor
Careworkscomp
DTT
H.C. Duke & Son
Inflatable Images
ISM Restaurant Services
Ohio Sound
TSBL Distributing (Taylor)
VIBE Communications
Vito Fryfilter
Watchfire Signs
------------------------------------------------------------------------------------------------------------------------------------------------------------
North Eastern Store Owners, Inc. - 2018 Official Convention Notice
TO: All members of North Eastern Store Owners, Inc.
FROM: Ron Rapp, President
SUBJECT: Annual Meeting, January 27, 2018
Notice is hereby given that, pursuant to call of its directors, the 47th annual meeting of all members of North Eastern Store Owners, Inc. will be held at the Columbus Marriott Northwest 1/27/18at 1:00pm, for the purpose of considering and voting upon the following matters:
1. Election of Directors - Four(4) Directors will be elected to a new term.
2. Whatever other business, if any, which may be properly brought before the meeting or any adjournment thereof.
By Order of the Board of Directors
Note: Directors whose terms are up:
Tom Cleary, Wellington OH
Jerry Bartoe, Huntington WV
Keith Schreiber, Conneaut OH
Pat Mulherin, Mansfield OH
If you are interested in running for the board, contact the Nominating Committee Chairman Tom Cleary 216-390-3127,
Ron Rapp 330-565-8429 or Jeff Haynes 304-562-7355.
Board Member contact info at www.nesonews.com
P.S. Non-Member stores are welcome and encouraged to attend the convention.
You will need Adobe Acrabat Reader to view many documents on this website Free Download Now
Office Information
North Eastern Store Owners, Inc.
Jeff Haynes, Executive Secretary
317 East Maplewood Est., Scott Depot, WV 25560
304-562-7355 • 510-740-3586 fax
neso@suddenlink.net